Tips
How to arrange a practical room for a child?
When we are faced with the task of arranging a children's room, it is worth focusing primarily on creating a practical project in which there is room for all the furniture and solutions necessary for everyday use. Such a room must fulfill many functions, and in addition, its decor should be in line with the needs and interests of the child. So how to arrange a functional space for the youngest?
Start with the basics, i.e. how to functionally furnish a child's room
It is best to start planning the decor by focusing on the most important issues, i.e. the furniture that is necessary in a child's room. Of course, a lot depends on the age of the user. A comfortable bed is the absolute basis of any project, which should be supplemented with furniture that allows storage and a place to learn and play. In a large room, finding a place for all these elements will not be a problem, however, arranging a small room can be a bit more complicated. Fortunately, the limited space does not mean that we have to give up the functionality of the décor - furniture comes to the rescue, which, while remaining comfortable and practical, helps to save space, such as furniture made of the Minimondo collection. Even though we cannot enlarge the room, we can add an extra level to it by selecting raised bed. Its design allows you to arrange the space under the furniture, filling it with chests of drawers. It will also be a great complement to such a set pull-out desk - the spacious table top will work both while having fun and learning, but one move is enough to hide the desk under the bed and enjoy the free space. In this way, we include solutions with various functions in the design, without taking up valuable space.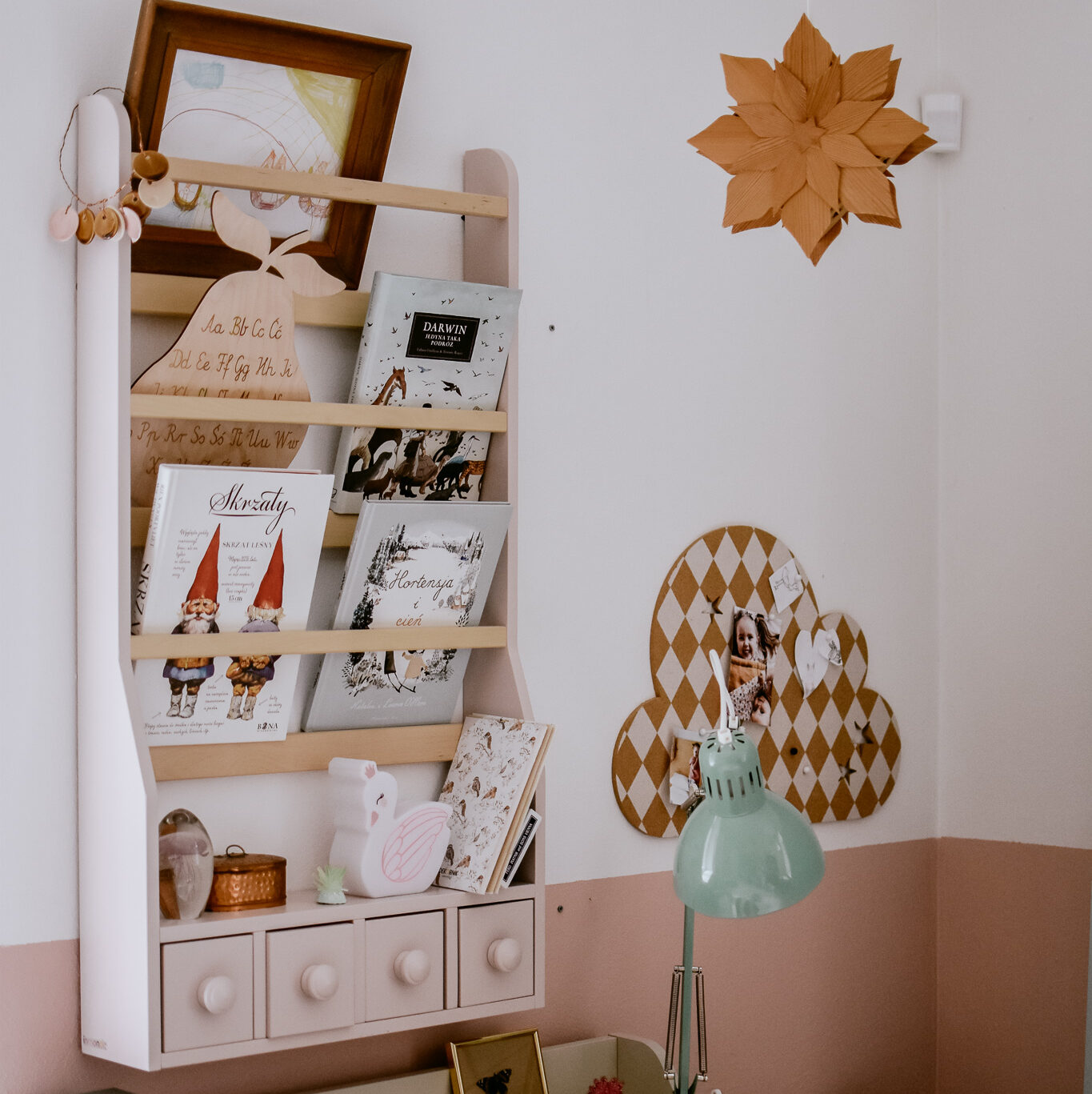 What is worth remembering when arranging a children's room?
Clutter is a common problem in children's rooms, especially in a toddler's room, who cannot yet take care of the surrounding space on their own. Solutions helping to maintain order can be taken care of at the stage of interior design. How to do it? By using furniture that allows you to store clothes, toys and school supplies. However, it is also important to arrange them in such a way that the necessary things are always at hand. Thanks to this, using them will be not only convenient for the child, but even reflexive - a toy shelf should be placed right next to the play area, and a place to put books or notebooks away as part of the study corner.
When choosing colors, we should focus not only on their aesthetic values, but also on how they will affect the child - so it is worth avoiding strong colors that may hinder concentration and rest. Neutral colors will be perfect, not only being a great base for decorations, but also optically enlarging the space. Different colors and patterns can also be used to separate zones with different functions within the room or to divide the room into parts in the case of a project for more than one child. When it comes to the selection of decorations, it is best to focus on the practical ones - let functional accessories such as beautiful furniture, lamps, curtains or a carpet become the decoration. As the room will already be filled with your toddler's toys and other treasures, adding too many purely decorative elements can give the interior a very chaotic look.
Sunlight is not only a free way to illuminate the room during the day, but also has a positive effect on health and well-being - so it is important to ensure that there is as much sunlight in the child's room as possible. Window decorations and curtains are best kept to a minimum. However, this is not enough, because in the evenings and in winter, when the days are short and dark, it will also be necessary to use artificial lighting. Here, of course, you need a ceiling lamp that will easily illuminate the entire room, but the project should also be supplemented with smaller solutions. Bedside lamps, desk lamps or wall lamps introduce an additional layer of lighting, becoming both a functional and decorative element of the decor.
Choose solutions that meet the child's needs
The needs of a child change as they grow up, so when arranging a child's room, remember to adjust it to the age of the user. In a project for the youngest, a safe and practical play corner is important, and for a larger one, the toys can be placed on low cabinets so that they are within the reach of a toddler. On the other hand, in the student's room, the place to study will be in the foreground - here it will be necessary to find a place for a comfortable desk for doing homework. It is also worth considering the durability of the decor - in the room of a few-year-old, we can, for example, choose a smaller bed, but also a full-size model that will be able to fulfill its function for many years. Furniture that grows with the child is also an interesting solution desk with adjustable top.
Furniture collections designed with the youngest users in mind are distinguished not only by careful workmanship and comfort, but also by beautiful design, often supplemented with decorative elements. As a result, the functionality and attractiveness of the decor can be taken care of by the same solutions - it is a simple way to arrange a child's room in a unique way that will delight the toddler.